Browsing for a film
On the Kanopy homepage, you'll see "shelves" of film collections with a common subject or theme. If you're browsing the Kanopy website on a computer, you'll also see a banner at the top of the homepage highlighting seasonal collections or featured films. Click the banner to browse the featured collection.
Note: The films and collections displayed on the homepage vary by institution and change over time.
To see a specific category of films, hover over Browse at the top of the page on the website, or tap Browse in the bottom nav bar of the mobile app. Then, select a category to browse shelves with that theme. For example, if you select "Classic Cinema," you might see shelves like "Classic Drama" and "Classic Comedy."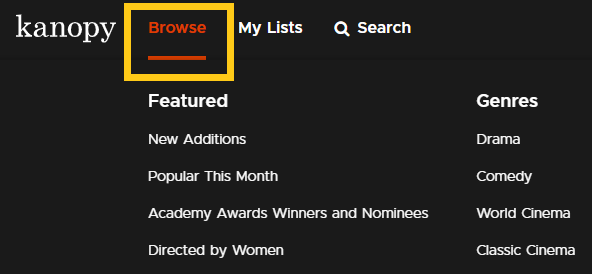 To see more information about a film, hover over the film on the website and select See More, or tap the film on the mobile app.

Watch a video overview of browsing for a film
---